Northdoor is proud to be premier sponsors at the
Security and Resiliency campus at IBM Think, London 2018
14th November 2018
09:00-18:30
The Old Truman Brewery
#thinkLondon
Join us at Think London 2018 to think differently and explore the potential. Connect with experts and hear inspiring ideas from thought leaders. Get hands-on experience with the latest technology. Extend your professional network.
From IBM executives to visionary speakers to clients and subject matter experts with deep technical knowledge, you'll have the opportunity to openly discuss the topics that matter most to you.  Together, we'll explore what makes you think.
Northdoor Keynote – Is your supply chain putting your business at risk?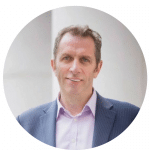 Darren Craig will explore supply chain risks in a post-GDPR world.  Whilst organisations have focussed on their own data security it is apparent that most have no process in place to monitor the cyber security status of their third-party suppliers. With increasing integration of third parties into supply chains it is now clear that organisations need to look outside their own environments to ensure that their supply chain is secure.
Darren is an Independent Expert to the European Commission. With over 30 years' experience in information technology, he has spent 20 years in information security and privacy, helping FSTE 100, Fortune 500 companies manage their data protection and security risks.
If you would like to book a meeting with one of the Northdoor team to discuss your technology needs, contact us here or give us a call on 0207 448 8500.