Northdoor Keynote – Is your supply chain putting your business at risk?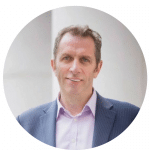 Darren Craig will explore supply chain risks in a post-GDPR world.  Whilst organisations have focussed on their own data security it is apparent that most have no process in place to monitor the cyber security status of their third-party suppliers. With increasing integration of third parties into supply chains it is now clear that organisations need to look outside their own environments to ensure that their supply chain is secure.
Darren is an Independent Expert to the European Commission. With over 30 years' experience in information technology, he has spent 20 years in information security and privacy, helping FSTE 100, Fortune 500 companies manage their data protection and security risks.