Date: 12 March 2018
Time: 1:30 -2:15
Register Now
You take appropriate measures to protect your data within your organisation. However, in the highly collaborative, inter-connected and increasingly digitalised London Market, how do you know your data will be suitably protected when it is passed along the chain – coverholder, broker, carrier, re-insurer, outsource supplier, etc? Under GDPR you will have potential liability so the question needs to be addressed.
Northdoor can provide a constant, automated cyber risk assessment that enables you to understand both your own cyber risk profile and that of your partners and suppliers, so you can assess your cyber risk across multiple degrees of relationships in real time. It supports the ongoing secure conduct of your business and management of cyber risk across the market.
You are invited to read our blog on this topic that discusses the challenge of ensuring and evidencing that your data is appropriately protected as it moves through the chain of London market participants.
Presenters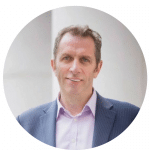 Darren Craig
Darren is a consulting and entrepreneurial business leader as well as an Independent Expert to the European Commission. With over 20 years' experience in information technology, he has spent 15 years in information security and privacy, helping global firms manage their data protection risks.

Richard Jefferies
Richard Jefferies has over 20 years' experience in the IT industry, working with senior leaders across multiple industries including insurance and the London Market. At global IT advisory firm Gartner he set up and chaired the "Lloyds Market Forum" round table sessions for London Market CIOs; at international management consultancy 3gamma he set up and chaired the "Leaders of Change Forum" round table sessions for executives responsible for change in medium-large enterprises; at Northdoor he set up and chairs the "Northdoor London Market Round Table" series for executives covering technology-driven transformation.
If you have any questions about the webinar, please email Richard or call 07823 345 756.