Consumption models that fit evolving business needs
Data has for too long been held captive within systems of record—isolated by the rigidity of platform/application/workload choices, segregated by business line, business function, and data type or initial usage.
The result? Splintered views of segmented data that's difficult to access and impossible to gain true analytical insight from.
Attempts at data science, machine learning, and deep learning are frustrated by the fact that the insights are only as good as the access to supporting data—which is too fragmented to provide full value.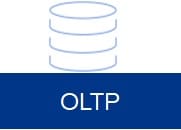 Structured transaction-based applications
Can be tightly integrated with OLAP warehouses
May be replaced with near-real-time solutions
May be archived into BIG data repositories
Provided by IBM Db2 Advanced Enterprise
MPP Performance Appliances
Enterprise Data Warehouses
May be archived into BIG data repositories
Provided by IBM Db2 Warehouse and IIAS
Unstructured data
Based on standard Hadoop distribution
Provided by IBM Db2 Big SQL
Streaming analytics
Near-real-time applications
Provided by IBM Db2 Event Store
It is clear that workload requirements are highly likely to change over time. Bridges between each of these data stores provide seamless data integration or application movement. The Common SQL Engine supports data and application portability. "Write it once and run it anywhere"
Changes in workload may require changes in the compute/storage capability of each data store. A flexible licence entitlement scheme allows organisations to move entitlement from one workload data store to another. For more information or to speak to one of our experts, contact us today.
Interested in seeing IBM Hybrid Data Management Flexible Workloads in action?
Request a demo or contact sales on: 0207 448 8500
Request a demo