The cybercrime menace
Businesses face a growing cybercrime threat, with an attack happening every 39 seconds on average and the World Economic Forum (WEF) ranking cyber-crime as one of the top 10 threats for both impact and likelihood. Even if you have the best perimeter security money can buy, trusted employees inside your network may accidentally or deliberately compromise systems and data. So it's a question of when—not if—a cyber attack will succeed.
The cost of a cyber attack can be devastating. The NotPetya malware caused £7 billion of damage, including £600 million at Merck (pharmaceuticals), £280 million at TNT Express (logistics) and £275 million at Saint-Gobain (construction).
Traditional backup and recovery can't protect you against threats like these—because malware will actively seek to encrypt or delete your backups.
With a cyber recovery solution from Northdoor as a last line of defence, you gain:
Scheduled copies of your critical data throughout the day
Isolated ("air-gapped") vaults of data
Immutable unchangeable backups of critical data
Automated checks on the integrity of protected data
Smart tools for rapid and effective recovery.
Protect your business against current and unknown future cybercrime threats with a cyber recovery solution from Northdoor: email us, complete the form here or call us on 020 7448 8500 to arrange a free initial consultation.
Keep data safe from ransomware with cyber recovery
A cyber attack happens every 39 seconds. Learn how Northdoor protects your data even if your cyber defences are breached.
Build a last line of defence
Cybercrime causes billions of pounds of economic damage annually. And even if you could make your IT perimeter completely secure, you'd still be at risk from accidental or malicious insider activity.
With the Northdoor Cyber Recovery Solution, you can ensure that vital data is safeguarded and get back to business quickly—even if malware compromises your backups.
See our infographic for more details on how to protect your business from cybercrime.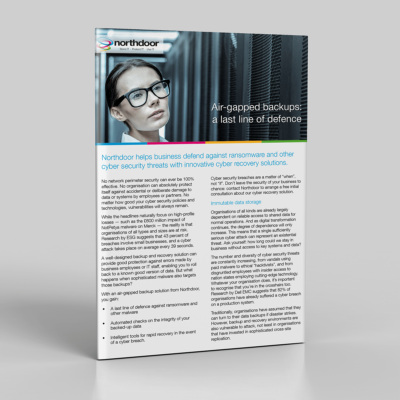 Air-gapped backups
Organisations need a way to back up data so that it can't be changed — an immutable backup — together with the ability to understand when production data has been corrupted.
The threat—and why DR is not enough
Businesses face increasingly diverse and complex cybercrime threats from multiple sources:
"Script-kiddies" using free or paid malware
Criminals seeking to steal or encrypt data for financial gain
Nation states using sophisticated cyber weaponry without regard for those caught in the crossfire
Hacktivists attempting to shut down businesses
Insider threats from employees or partners.
These threats are not just hypothetical: Dell EMC research discovered that 82% of organisations have experienced some kind of compromise on a production system.
The vast majority of businesses today have well managed disaster recovery (DR) plans, in which data is backed up and can be restored if something happens to the main copy.
So why, according to the Global Data Protection Index Survey 2020 Snapshot, do 69% of IT decision makers lack confidence in their ability to reliably recover all business-critical data in the event of a cyber attack?
It's because malware, especially ransomware, typically works undetected for a period, meaning that it also compromises and damages your backups. The time taken to respond and recover to a cyber attack using traditional methods is also untenable for most. With the average recovery time to full operation following a cyber-attack being in the weeks or months – the financial, trust and reputational damage caused can be an existential threat for many organisations.  Having a solution in place to recover to full operation in hours or days significantly reduces the impact on your business.
Alongside your existing DR plans, you need a last line of defence: air-gapped immutable backups of key data, supplemented by smart technology that identifies and halts suspicious activity, and that accelerates the recovery and resumption of normal operations.
Cyber recovery from Northdoor
Building on three decades of experience in helping blue-chip companies manage their critical data assets, Northdoor offers an advanced cyber recovery solution to protect against malware.
The Northdoor solution includes:
Expert Cyber Resilience Assessment of your current IT environment and operational procedures
Determination of target data sets, recovery time objectives (RTOs) and recovery point objectives (RPOs)
Planning, sizing, and deployment of the appropriate solution
Change management, education, and ongoing support for your team.
Based on mature technology, the Northdoor cyber recovery solution offers:
Fully isolated and air-gapped vault for data
Immutable data storage
Automated integrity checks
Multiple layers of login security to protect against insider threats
Automated administration
Secure, vault-based analytics and machine learning
Advanced workflows and tools for fast, secure recovery
To learn more about how Northdoor's expertise can rapidly protect your business-critical data against the enormous and rising threat of malware, email us, complete the form here, or call us on 020 7448 8500 to arrange a free initial consultation.
Read more about cyber resilience
Interested in seeing Cyber Recovery and Cyber Resilience in action?
Request a demo or contact sales on: 0207 448 8500
Request a demo
Subscribe to our newsletter
Subscribe to our newsletter to get the very latest insights and updates in the world of enterprise IT and data security: