Empower anti-fraud Solutions teams
With solutions based on IBM i2, designed, deployed and supported by Northdoor, your organisation can replace painstaking manual searches with highly automated multi-dimensional analysis, empowering anti-fraud solutions teams to visualise data based on social, geospatial and temporal connections between persons of interest.
By helping you see hidden patterns between disparate data from multiple source systems, IBM i2 technology can reveal fraudulent behaviour that would pass undetected by simpler rules-based systems. Instead of working with slow and unwieldy spreadsheets, your teams can analyse data almost in real time, gaining the ability to spot criminal transactions or events among enormous numbers of legitimate ones.
Information to Intelligence to Action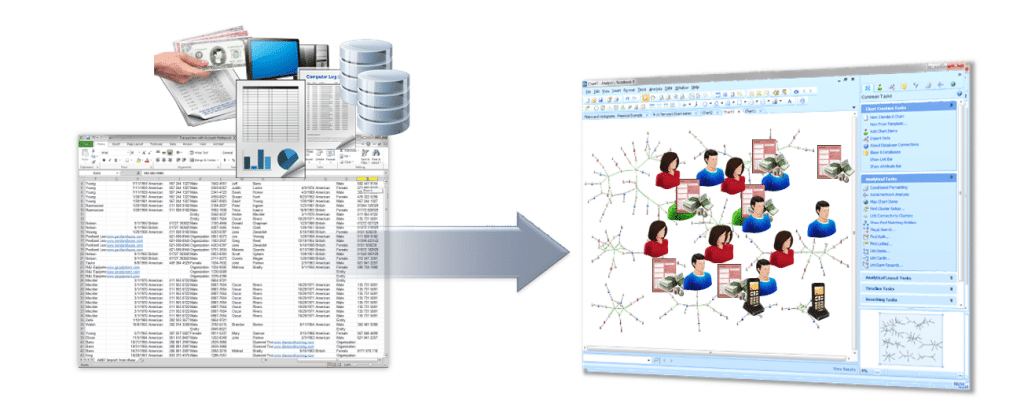 Accelerate the data-to-decision process
IBM i2 technology has been used for more than 20 years by every UK police force, defence and security organisation, and by a further 4,000 customers worldwide, including government organisations in 24 of the 28 NATO countries.
With the ability to run complex queries across hundreds of terabytes of data to highlight and visualise connections and non-obvious relations, over multiple degrees of separation, IBM i2 solutions help uncover hidden relationships in massive data sets. This makes them perfectly suited to the challenges faced by banks and insurers today.
As deployed by Northdoor, the i2 portfolio gives organisations the power to automate and accelerate many critical activities throughout the full lifecycle of data analysis, from acquisition, discovery, collation and classification through to querying and reporting in legally admissible formats.
Using IBM i2 visual analysis solutions from Northdoor, analysts can compose powerful queries using a drag-and-drop interface – enabling them to pose incisive questions without the need to learn complex computational languages. The net result is a shorter data-to-decision process, potentially slashing the time to complete in-depth fraud investigations and reducing reporting time from days to hours.