IBM Webinar:
Unlock the potential of watsonx.data: scaling analytics and AI workloads with an open lakehouse approach
Thursday, 27th July 2023
4 pm
IBM announced the launch of IBM watsonx.data, a data store built on an open lakehouse architecture to help enterprises easily unify and govern their structured and unstructured data, wherever it resides, for high-performance AI and analytics.
What is watsonx.data?
Watsonx.data will allow users to access their data through a single point of entry and run multiple fit-for-purpose query engines across IT Environments.  Through workload optimisation, an organisation can reduce data warehouse costs by up to 50% by augmenting within this solution.  It also offers built-in governance, automation and integrations with an organisation's existing databases and tools to simplify setup and user experience.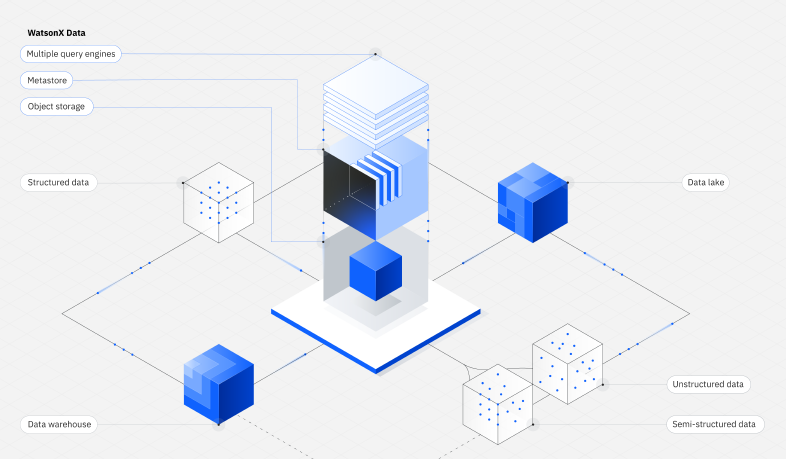 Scale AI Workloads for All of Your Data, Anywhere
Data lakehouses are fast becoming a solution for data-driven enterprises attempting to scale AI, combining the performance of a data warehouse with the flexibility and cost-effectiveness of a data lake. By adopting an open data lakehouse approach, you can revolutionise your data operations in the following ways:
Simplify data access
Automate governance
Dramatically reduce costs
What you will learn from the webinar:
Discover how Watsonx.data can drive successful scaling of your analytics and AI workloads, allowing you to harness the full potential of your data.
Gain valuable insights from industry experts who will highlight the numerous benefits of adopting an open lakehouse approach.
Witness the power of WatsonX.data through live demonstrations, showcasing its transformative capabilities firsthand.
Register to learn how watsonx.data can help your organisation scale analytics and AI workloads for all your data, hear from industry experts on the benefit of an open lakehouse approach, and see watsonx.data live in action.
Webinar Speakers
Navjot Bhogal, Vice President and Global Head for the Cloud Business, STL Digital
Edward Calvesbert, Director of Distributed Databases within Data and AI, IBM
Joseph Krozak, Owner, Krozak Information Technologies, Inc.
Eduardo Monich Fronza, Partner Solutions Architect, Amazon Web Services
To learn more about scaling AI workloads with Watsonx and how it can benefit your organisation, get in touch with us today.