Subject Access Requests Solution
Increase both the accuracy and the speed of responding to incoming SARs, while cutting labour and costs.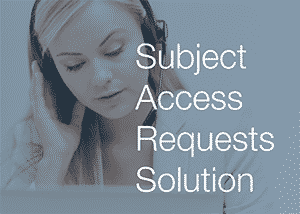 Under the GDPR, data subjects (that is, natural persons) have more rights over the data you hold on them than ever before. These include the rights to see, edit, correct, export and erase any or all personal data – and organisations are required to make this a fast and easy process for the data subject.
Naturally, even a small number of Subject Access Requests (SARs) could represent a major distraction and drain on resources for an organisation, and a spike in requests could break manual processes altogether, leaving you exposed to the risk of regulatory action for failing to meet your SARs obligations.
Northdoor provides a complete Subject Access Requests Solution to increase both the accuracy and the speed of responding to incoming SARs. The solution offers a standardised framework for receiving requests through a convenient web portal, validating them, managing them centrally, automatically applying for extensions if there is a risk of exceeding the standard one-month deadline, and securely sending the requested information back to the applicant.
As part of the solution, Northdoor works with companies to automate their SARs workflows from assignment to approval, and to integrate with internal and external data sources for automated modification or erasure of data. The solution brings together all the requested information into a single, standard response to each data subject, ensuring consistency, precision and timeliness without tying up internal resources in manual paperchases.
Contact us for more information.