Create a future-proof hybrid cloud for storage, with IBM Spectrum software-defined storage solutions
In this blog, Tom explains how flexible licensing conditions from IBM Spectrum enable organisations to confidently invest in on-premises software-defined storage solutions while planning a simple, non-disruptive journey to adopting cloud storage. By making it easy for organisations to create hybrid cloud/on-premises storage infrastructure, the IBM and Northdoor solution delivers greater flexibility and value.
In the digital age, the boundaries between on-premises and cloud technology are steadily blurring, driven in part by the changing needs of business users. Rather than spending months or years planning on-prem deployments of new applications, many organisations will now choose an instant deployment of as-a-service technology in the cloud. Particularly in light of data-protection regulations such as the GDPR, this potentially leaves the IT function exposed to data security and governance issues in at least two places.
Even if your organisation has yet to take the plunge into the cloud, that change is almost certainly on the horizon. Any IT department that chooses to ignore the possibility faces the risk of "shadow IT", whereby business users vote with their feet – and credit cards – to buy and configure cloud-based apps for themselves.
With many IT teams already struggling to manage disparate on-premises data storage, the potential addition of cloud-based storage may be an overwhelming prospect. Fortunately, the same solution can address both requirements. IBM Spectrum Storage Suite provides a best-in-class software-defined storage solution that enables organisations to unite the capacity on existing and future storage devices into a flexible pool for all systems to use. It provides a comprehensive suite of products for virtualised block storage, scale-out file storage, backup and recovery, Copy Data Management and control.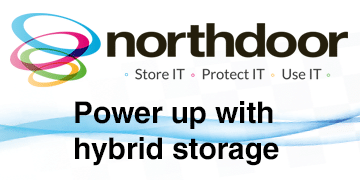 Managed through a single, powerful interface, IBM Spectrum includes modern enterprise storage functionality such as deduplication, compression, snap shots and live migration. And thanks to flexible licensing options from IBM, this software-defined storage solution can also ease your journey to the cloud. You can deploy the technology as an on-premises appliance, as a software-only solution for deployment on any compatible hardware, or on your choice of the IBM Cloud or other major cloud platforms supported by the solution.
Choosing a perpetual licence for IBM Spectrum Storage Suite means that you can deploy on-premises today and then flexibly move any or all of your storage to the cloud in future, without changing your licensing terms. This means total flexibility in where and how you run your enterprise storage: the IBM technology supports hybrid combinations of on-premises and cloud storage, with a single interface for managing all capacity. It also means that organisations can invest confidently in new storage technology without concerns about how the future storage strategy will impact them.
When designing a hybrid-cloud storage infrastructure – whether because you need it today, or because you think the future will involve cloud to some degree – it is vital to work with an experienced partner to architect, deploy and support the environment. As one of just a handful of IBM Business Partners in the UK to hold the prestigious "Expert Storage Solutions" status, Northdoor has the vendor credentials to help you transition a hybrid-cloud software-defined storage solution, for lower costs, greater flexibility and the performance to meet future challenges. We also have three decades of experience in helping blue-chip companies to manage, protect, and extract value from business data.
For more information on the full range of IBM storage technologies, contact us today.